Michael Waltrip's #55 Napa Auto Parts 1-6th scale Nascar Rc car
From about February-March of 2006 (give or take a month) the Team at Teamup International released information to me through various email conversations on "What new drivers" were coming out. I was told that this #55 Napa Autoparts 6th scale Rc car was headed for production. This #55 Napa Autoparts 6th scale Rc car was originally plugged as a Chevorlet. Assuming that no one (publicly) knew Michael Waltrip was headed for racing Toyotas, it was then produced as the now released Toyota. This Rc car was ONLY produced in Hobby Grade version.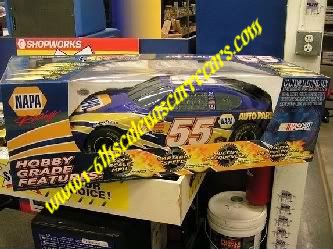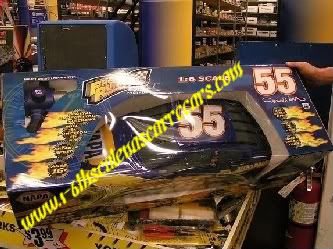 The FIRST foriegn auto manufacturer to enter Nascar, and now this, the FIRST Toyota 1-6th scale Nascar Rc car is reproduced in a goregous 1-6th scale with bright and colorful artwork.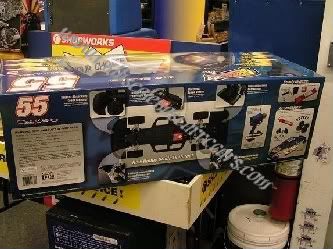 Knowing that, I have kept a watchful eye at my local Napa stores for months. While keeping up with Napa and Teamup on current news on this Rc car and others, ( I felt like the kid "Ralphie" in A Christmas Story movie for the RedRyderCarbineAction100shotRangeModelAirRifle) waiting for this to be released.
My first copy of the # 55 Napa Auto Parts Rc car was purchased for 139.00 plus tax on November 3rd, 2006. Average sale price on these Napa Rc cars ranged from 121.50 to 181.00 plus tax in the stores.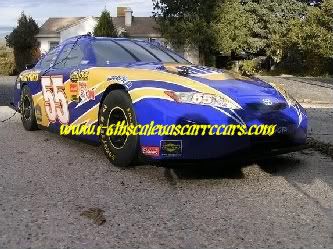 These were a ONE TIME production for Napa and Toyota Racing, Michael Waltrip Racing for promotions in the Napa Autoparts stores. They were distributed to the stores for sales AND a giveaway that you had to register for.  
If you were quick enough or knew someone who worked for Napa you could purchase them outright as I and others did or simply flood the entry box with registry slips at different Napa autoparts stores and hope for the best.
This Rc car was ONLY produced in Hobby Grade version.
Unlike some of the past drivers' rc cars.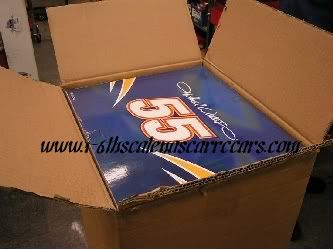 True production numbers may never be known ( I have asked ) but from the sides of the original shipping carton these came in at the Napa Autoparts stores we can make an educated guess. CTN # 1089 of 5792 is the one that is in my collection of Teamup 6th scale Rc cars. Now posting this and you reading this, I and other collectors can assume that at least a production of 5792 cartons-cars were made. Which in the grand scheme of things, it makes for a short production run as compared to the other 6 publicly available different models of the 6th scale Rc cars they currently produce or have produced.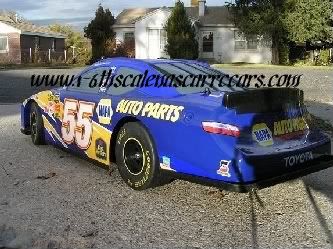 Why is that?

Considering that the other 12 models, (5 different drivers, but 6 different graphics packages in Base Versions and 6 others in Hobby Grade versions) were released in grand fashion at Walmarts, Targets, in November-December 2005 and thru January 2006, with an average of 12 of EACH drivers' Rc car per Walmart and Target then taking the total amounts of these stores (about 3800) and doing simple multiplication and viola ! HUGE production runs. Most likey in the tens of thousands and still going strong. Not all at once mind you but I know for a fact that the other 6 Hobby Grades listed here below...
# 3 Dale Earnhardt Sr. GM Goodwrench
DEI # 8 Dale Jr. "Budweiser Racing" version
DEI # 8 Dale Jr. "DEI Wheat Crest" version DEI
# 20 Tony Stewart "Home Depot" JGR
# 24 Jeff Gordon "Dupont Racing" HMS
# 48 Jimmie Johnson "Lowes Home Improvement" HMS 
...are still being produced at the time of this posting. The original Base versions of the same drivers above are no longer being produced so as to make way for the more popular "Hobby Grade" 6th scale line of Rc cars. 
   In 2007 New artwork for these Rc cars will be released as the Racing teams produce new artwork for their real race cars. So to keep up wi
th current race car artwork designs, Teamup International will have new paint schemes for some of these. According to Teamup themselves this artwork can be subtle from a sponsor changed artwork, added or deleted sponsor to complete new artwork.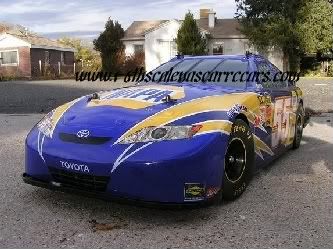 Spare Body Shells
Now also taking into consideration that this is a Limited Production Rc car, new replacement body shells are going to be tought to find soon enough also. These can be purchased without to much difficulty at the time of this posting. They run about 36.00-49.00 plus shipping thru Teamup International and checkerflagzone.com. If it were me and I couldnt wait to "race" mine around the neighborhood, Id be sure to have at least ONE or two spare body shells for that new look while its on the shelf waiting for the "next race".
Multiple Frequencies 
   These and other "Hobby Grade" and "Added Features" or "Updated Features-Version" Rc cars from Teamup International have 6 different frequency modules you can purchase seperatley. They DO NOT HAVE ALL 6 in the Box. These also can be purchased for about 15.00-20.00 plus shipping thru Teamup International and or checkerflagzone.com. The interchangeable frequencies are so you can own identical cars and with the "frequency pack" race them (up to 7 cars) at the same time. With tiny bit of practice you can run very well with other cars. The 7th car refers to a Base version of 49 mghrz being run with 6 Hobby Grade cars at the same time.
What should I expect to pay? 
   Current Ebay prices have been from 100.99 to an astronomical 1000.00 Buy It Now. 399.00 to 1000.00 Buy It Now and up is simplly "scalping" or Ebay rape. UNLESS You have more money than you know what to do with then spend as you wish!!! If Ebay has taught anything, there will be someone listing one very soon cheaper. If not today, probably tommorrow. My personal opinion is "whatever the market dictates"... About 130.00 - 220.00 plus shipping tops is a good price.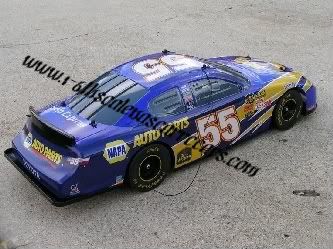 Why?    
   Free Market for one and someone recieved one for Christmas 2006 that doesnt have the time to use it nor the space to display it or someones parents think its simply to much Rc car for their child. Which is a fact on most of these larger Rc cars. 
   Better yet, someone recieved one for Christmas AND their wife bought one on Ebay for a Christmas present AND they bought one (without the wife knowing it) AND won one at a local Napa Auto Parts in their store free drawing. With both spouses filling out registry slips at the same store!! Which is a true fact from one of my own buyers!!! 
   As with ANY real life auction or online auction, dont get emotional. It clouds the judgement. There is ALWAYS tommorrow. If you are reading this and wish to get one of these Napa Rc cars or any other Rc cars listed, I can probably get them at a reasonable price. 
   Beware. If the price starts out low enough I most certainly will be bidding on the Rc car myself for my own collection. You never know when a bargin "happens". 
   My personal opinion is, at the time of this posting they are running about 130.00 to 220.00 plus shipping. There will be quite a few of these for the first few weeks after Christmas 2006 then it will die off. But someone will always have one for sale.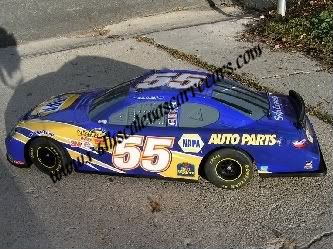 What is the terminology Base version and Hobby Grade mean? 
   "Hobby Grade" or "Added Features" or "Updated Features-Version" are the same thing. Which in a nutshell means your "Hobby Grade" or "Added Features" or "Updated Features-Version" will operate like the real race car with variable speeds and digital proportional steering or variable steering. 
    Base Version refers to the first editions (2 different styles of Base versions) of Rc cars that Teamup International produced. They DO NOT turn gradually like the real race car. Either FULL RIGHT or FULL LEFT. The Speed control is either FULL SPEED forward or reverse. You can run only Two cars at the same time taking note the two frequencys 27 mghz and 49 mghz of DIFFERENT drivers cars. Not very easy to control. I hope you enjoyed the trivia around this Napa Rc car. (maybe not my opinion) but nevertheless posted here for those looking for some history on this #55 Napa Autoparts 6th scale Rc car.